Apple Repair Success No. 2
Success #2. Kata's Mid 2012 11″ MacBook Air repaired.
Again a story about lousy service from #PowerMac Center in Manila. The MacBook continued crashing when it got hot. We had it at PowerMac Center in Manila, where they reinstalled the OS, then because it continued crashing at #GRAVIS in Stuttgart, Germany, where they fixed the file system. Still the machine kept crashing when it got hot. I told both service centers, but they don't seem to listen to customers and stick to their testing procedures. Of course, if a test is completed before the machine gets hot, a thermal error does not get detected.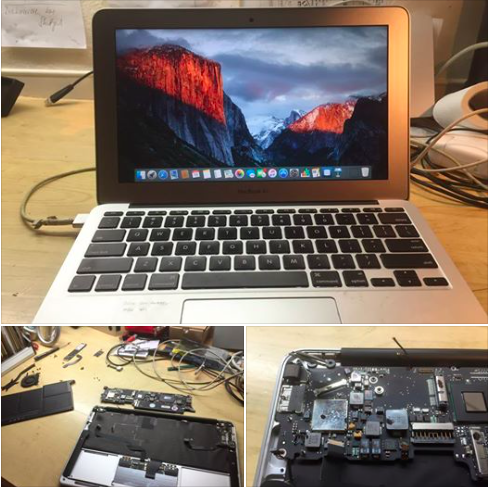 So I went into action myself again. Re-installed the OS with the MacBook placed in front of an AC outlet. Worked, but once the machine got hot- it crashed. Run the hardware error check several times, and occasionally it produced a long error code with MEM somewhere between many numbers, so I assumed a memory error, either RAM or the SSD drive. Swapped the SSD drive – machine crashed.
I then finally found somebody responsive in the APPLE support forum. Within 10 min he came back confirming that it is a hardware error. Logic board. The RAM is soldered onto the logic board.
Ordered a new logic board in Amazon from a surplus supplier in the US. It arrived today. Spent an hour this evening and swapped the logic boards. Voila, works perfectly. No crash.
With our other MacBook Air (see previous report) PowerMac Center quoted us 37,000 pesos for a new logic board when the battery was broken and a piece of metal got stuck in the MacSafe. With this machine they re-installed the OS when the logic board was broken. These guys are completely incompetent.
This time the Germans were not much better either.