I must say, this made my day this morning. The first affordable electric car, and very cool. Citroen Ami.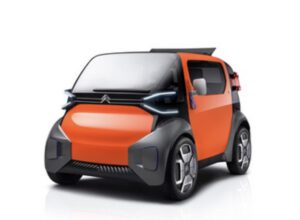 Starts selling in France and will be available in Germany soon. No drivers license needed. Less that 7,000 Euro. And a step in the right direction, instead of more, more, more power at the same emissions- focus on what is needed. 8hp, 45 km/h. A fleet of these at UP would address traffic, parking and above all pollution problems. For people like my parents, this would get them anywhere in the surroundings of Stuttgart.
My dad had a Citroen GS and later a Citroen CX. A Friend had a 2CV. All cars i admired, for different reasons.
Kudos to Citroen for conceptualizing AND commercializing the Ami. www.citroen.de/citroen-markenwelt/concept-cars/ami-one-concept.html. Here is a link with English info: edition.cnn.com/2020/02/28/cars/citroen-ami-cheap-electric-car/index.html

Martin Gummert Sent from my iPhone