Back in the Philippines. My third Honda.
After returning to the Philippines I wanted to buy a Funduro BMW 650 or a Harley but it turned out that all the bigger bikes over here are imported on an idividual basis and that each spare part and even tires have to be imported individually as well. In the early eighties in Germany I waited three months for the gearbox spare parts for my Honda CB125 J. Kind of a traumatic experience seeing summer pass by and the motorcycle sitting in the garage. Since I wanted to use this bike every day I ended up buying the Honda because it was the the biggest lcoally assembled dirt bike that the Philippine market has to offer. But I was in for a big disappointment.
Looks nice
The brand new Honda definitely looks appealing.
Performance
But the initial excitement drops quite a bit when riding the bike. I had looked the type up in the Internet and got some very favourable user reports about the performance of the XR200 but then realised that Honda uses the same name for another bike with a four valve engine outside the Philippines. This bike has a two valve engine with a design very similar like my first bike, the Honda CB125S, had. Just add a bigger cylinder and piston and an electric starter.
A boring engine
The two valve 200 ccm engine is suche a bore. Basically a 30 year old design. The performance feels like 30 years old, or even older. It does not have a lot of torque, which is expected with a small engine like that but it also does not have power either even if you rev it to the limit which is indicated by little red gear marks on the speedometer. I had problems getting faster than 100km/h. Some users in the Philippines report 110 or even 120 km/h but I wonder how they get those numbers, maybe lying flat on the tank using the draft of a fast moving car in front.
This is definitely a result of the protected economy of the Philippines. Honda can still sell this engine here in a "locally produced" motorbike which enjoyes tax incentives while imported, more exciting bikes have a 100% import tax attached to them. Nobody would buy this kind of bike in a more competitive market.
Frame and Suspension
The frame and suspension are quite nice, I thought initially at least. Very light and the bike has a high frame so that running up to Mt. Maikiling on a really bad dand steep dirt road was good fun the first couple of times I did it.

Monoshock hidden behind plastic. Drum brake at the back wheel.
Both, the fork and the Pro-Link monoshock for the back wheel give sufficiently long way for my body weight even for small jumps. The front disc break looks tiny but is quite good and does not need a lot of force to break the bike quickly. For two heavy riders it is a bit underdimensioned. The half rim drum break at the back wheel is pretty weak but sufficient for this size of bike.
The monoshock is hidden behind plastic and can be adjusted to drivers weight, although tools are needed to accomplish this and it is not an easy task.
Litte disk brake at the front wheel
Well, performace is relative until until you have a comparison. I rented a Honda XLR200 in Angeles for a week to drive to Baguio. Basically a very similar bike but with a modern 4 valve engine and a much stiffer fram. Roughly the same weight but 10 hp more. I really enjoyed that bike a lot more. After returning to my own XR200 I felt all of a sudden how crappy it's frame really is.
Some jokes
The front light is a joke. A small rectangular light with a 35/35W bulb, some sort of moped joke. Definitely unusable. At night you have to either slow down to almost walking speed or have your will completed drawer back home.
Pathetic front light
Another joke sits on top of the back mudguard sits a little red bag with the typical Honda toolkit. You better not need it or replace it with some serious tools. The bag is actually quite useless since it invites people to steal the tools so you better not leave them in there, except you trust the pathetic locking cable that comes with it.
No luggage rack but a small toolbag instead
While the engine and other compoenents are obviously shipped from Japan some components like the frame and the handle bar are probably locally manufactured. You can see it in the finish.
A few months later
The welding of the frame looks awful. The handlebar started rusting after a few months. The color of the plastic used for the mud gards, hand protectors and side covers fades in the sun like the color print of an ink jet printer. Admittedly we live in the tropics and the climate favors corrosion but why does the tank (imported?) not have a single spot of rust after 4 years while in other parts it is very obvious after a few months?
Welding joints at frame
Color of plastic mud guard faded after one year
Rust at the frame after only one year
Service
On theory spare parts are available and cheap because the bike is locally assembled. In practice Star Honda in Calamba often did not have the most basic parts like light bulbs and screws to attach the sprocket to the back wheel on stock. Service is another issue. Since most Philippino customers go primarily for a low bill an all inclusive preventive maintenance package can not be expected. I had to tell the service center each individual piece of work and still they forgot things. I ended up servicing the bike by myself.
Rating
| | |
| --- | --- |
| Category | Rating |
| Engine performance | |
| Frame and suspension | |
| Weight | |
| Quality | |
| Off road fun factor | |
| Suitability for travel (without modifications) | |
| Show factor | |
| Price | |
| Spare part price and availability | |
| Overall rating | |
Modifications
I did not like this bike a lot, that's why I did not put a lot of work in it. The only two modifications I did was getting rid of the silly tool bag and putting a luggage rack instead and fitting an additional 55W halogen light before I went on a trip to Bicol.

I also installed an Alarm system but the sensor has a very long response time so it is kind of useless. It starts sounding the alarm when the thief is already on his way.
Trips
I used this bike for my daily trip to work, a 8 minute ride one way. Since the Philippine highways don't allow bikes with less than 400ccm I could not take it on the SLEX so whenever I went on a bike trip to Northern Luzon I had to rent a bike in Angeles. I took the little Honda on several trips to the South though:
To be completed
December 2006
Maya Maya, Anilao, 2006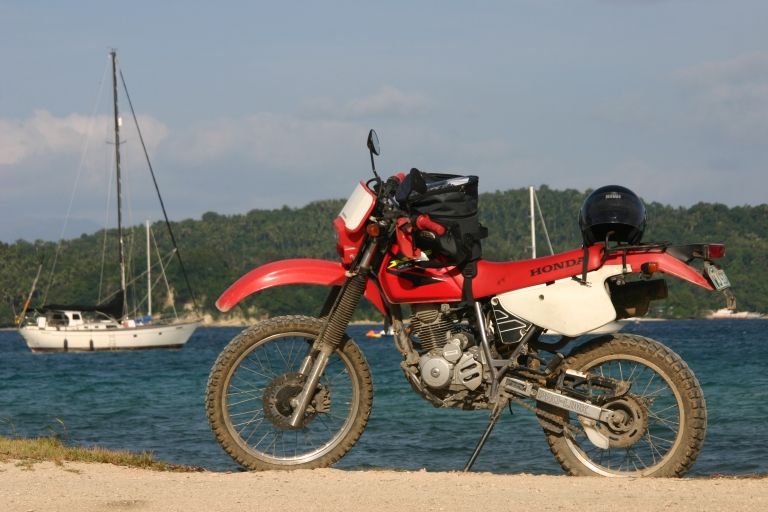 Bicol, March 2008
Links