The motorcycle scene in the Philippines is not as active as back in Europe – yet. But things are changing an there is a growing number of people who have a big interest in motorcycles.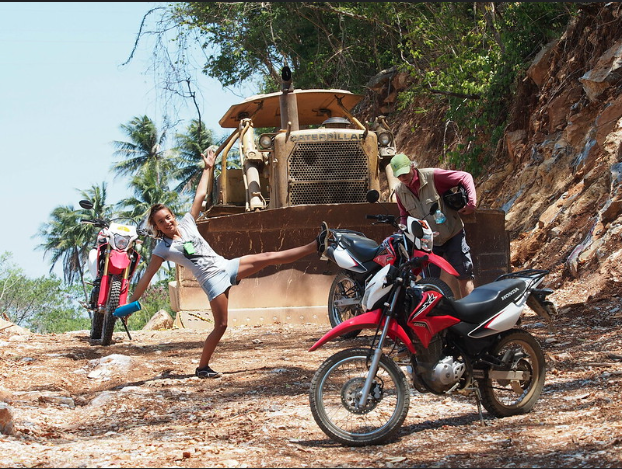 There are now all kinds of bikes: Classic bikes, off road bikes, custom builds, imported big bikes, there is everything here, it is just sometimes difficult to find. Some of the groups organise via Facebook, and only via Facebook. So if you, like me, boycot Facebook, it might be difficult to get and stay in touch. Below are some tips as starting points.
Handle Bar: Steak, Bikes, Beer, Sports & Rock & Roll
Handle Bar sports bar close to Burgos street, Makati, the entertainment district. Hangout for bikers, steak lovers and sports fans. There are usually mostly Harleys and cruisers parked outside the bar. Home of the Mad Dogs.
Address:
31 Polaris Street
Bel-Air Village
Makati City
Phone: (02) 898 1976
Link to Homepage
Laguna Choppers in San Pablo
Probably one of the best known custom builder in the country, he also exports some of his builds. No particular brand, he does service stock BMWs. Also does vocational training courses on Motorcycle Small Engine Servicing with TESDA certification. The offer repairs, customisation and chroming of parts
Owner is Elmer Reyes.
Address: 112 Sampaguita ST. COR., Maharlika HWY,
San Pablo City
Laguna
info@lagunachoppers.com
Link to Homepage 
Ropali Classics in Ortigas
The pioneer of classic motorcycle shops in the Philippines. Dealer of KTM Norton, Royal Enfield, Kymco and SWM. Exclusive distributor of Ural. Offers a wide range of services including restorations and customisations. Good tack record on restoring vintage BMWs.
They have a bar in the shop and host weekly meetings for the community of bikers.
Store: Ropali Plaza Escriva, Ortigas
Homepage: www.ropaliclassics.com 
Phone: 0917-569-0494.
BMW Autohaus, Pasig, BMW importer. There are a lot of the smaller Enduros in the country (second hand)
Dark Horse Philippines
Dark Horse is an informal group of vintage BMW riders. Their models are typically R50 and R68. The Philippine police used to ride these, so there are quite a lot in town.
Events
Motobuilt Filipinas
This is an annual event for showing of your build. Good crowd. Also accompanied by a motorcycle trade fair and live bands. 
By the way, Martin won the 3rd Price in the Vintage Category with his BMW R75/5 in 2016. See Minute 3:21 in the video.
Distinguished Gentleman's Ride
Annual run. An international charity event for classic and vintage styled motorcycles that raises awareness and funds for the Movember Foundation's men's health. Classic and retro bikes and builds. Ride through Manila without stopping at crossings. Meet the who is who in the biker Szene. 800 this year. Usually happens after the home leave time end of September.
Motoheritage Weekend
The biggest vintage and classic motorcycle show in the Philippines. Usually organised sometimes end of September.
Scambler Day
Organised by Ducati, the first time in 2019, so we will need to see whether this will last.
Buying bikes
New bikes
KTM sells Indian made bikes in the Philippines. Overview 
Ducati: Sells since many years, there are second hand bikes. Overview on new bikes is here. Prices are here.
BMW sells bikes new bikes. There are a lot of the smaller Enduros around.
Sales of second hand bikes
A lot of second hand bikes are usually advertised through the facebook groups. Some shops also have some. There are a few other web sites:
www.motorcyclephilippines.com has classifieds. It is not so popular anymore, but got a refresh recently. I found all my second hand motorbikes on this site (BMW R75/5, Honda Dax, Yamaha XR250).
This site usually has a lot of imported bikes.
Philmotors.com has a bike section too. A good mix of imported and locally bikes.
Carousell, formerly OLX, also has a bike section. Mostly locally produced bikes. Some imports.
PricePrice.com has mostly locally produced bikes, but is still worth a visit.
You can also check with the the main reps of the Japanese big four. Sometimes they import a small batch of new big bikes. 
Happy Riding